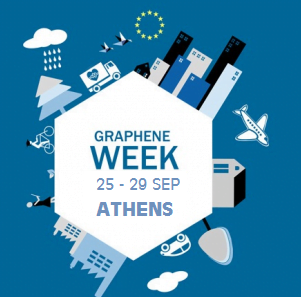 Robnor ResinLab Ltd, leading formulator of epoxy and polyurethane resin systems, is delighted to confirm its presence at the 2017 Graphene Week Conference. Taking place at the Divani Caravel Hotel in Athens between September 25th and 29th, Graphene Week is an annual gathering of Graphene Technology Leaders.
Robnor ResinLab will be located on stand no 2 alongside fellow partners of the EU funded Polygraph Project. The objective of the Polygraph project is to develop new production techniques to deliver industrial scale quantities of graphene-reinforced thermosetting polymers. Robnor's role within this research project has been to lead the formulation development work and to date has developed several unique adhesives with enhanced properties.
Mike Buy, Technical Manager at Robnor ResinLab comments "It is an honour for Robnor to have been involved with the PolyGraph Project over the past four years. As the project nears an end, we will finish on a high by attending the Graphene Week Conference. Graphene is an impressive material that has proven to enhance properties in resins such as increased thermal conductivity and mechanical properties, it has therefore been of great interest for us to study graphene in detail and develop resins containing grades of both graphite and graphene."
To learn more about the graphite and graphene resins Robnor ResinLab has developed, we invite visitors to meet us on Stand 2 at Graphene Week 2017.
To pre-arrange a meeting please email info@robnor.co.uk or call +44 (0) 1793 823741.